Why I read this book: I bought this and read it a few years ago when I first was diving into my writing journey.  Now that I'm a year and 100,000 words later, I thought I'd revisit it since I keep coming back to quoting it (that's the impression it made on me, even then).
Did I enjoy this book: Firmly.  It's fun to read, and contains a ton of helpful pieces of advice for aspiring authors.
What I will do differently because of this book: I think the biggest thing that will change in what I do comes at a collision with advice from my wife as well:  I need to stop writing for magazines and articles and start writing for me.  I have stories I want to tell.  I need to tell them.  I can keep an eye on the contests, and submit if it makes sense… But otherwise, I need to just write what I'm seeing and feeling.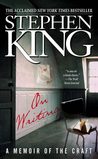 On Writing: A Memoir of the Craft by Stephen King
My rating: 5 of 5 stars
On Writing may be one of the best books of the #WritingLife you can find. King breaks the book into three parts:
1) A look at his life, and how that has shaped him as an author
2) His own list of tips and tricks to be a successful author
3) His own reflection of life after being hit by a van in 1999.
His look at his own life is told in snippets that are quite entertaining to read; often like reading a good novel. All the while, he ties these little clips back to how they have influenced his writing. Once he gets to the "On Writing" section, he really gives us tools and thoughts on a variety of subjects, plus the helpful tips he's received from lessons learned and rejection slips over the years.
My favorites of these tips:
1) The two most important things a writer should do to get better: Write More; Read More
2) Second Draft = First Draft – 10%
There are many more, but you should pick this book up to check them out in more detail.
All in all, there is something for everybody, even those not serious about the craft in this small peek at the life of one of the last century's most successful authors.