Why I read this book: I'm very interested in understanding and connecting more with what it means to "be a writer."  Outside of the news headlines and bestseller books, the glam and glitz that take years (decades) of hard work or lottery-style luck… I want to know if what I endure and enjoy are what all writer's feel.
Did I enjoy it:  Absolutely.  Probably the best book on "The Writer's Life" I've read to date.
How I will get better as a result of reading it:  I think the biggest take-away from Bird by Bird is comfort.  This book reiterates in no uncertain terms that the writing should be done as a result of a desire to write and gets the words on paper, and share your unique voice and perspective with the world.  The rest of the details may or may not take care of themselves.  On top of that, there's two big pieces of advice including a willingness to write some terrible first drafts, plus a focus on looking at the world through a  1-inch picture frame.  Both of these techniques I think are important, and will definitely include them.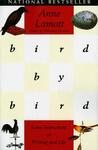 Bird by Bird: Some Instructions on Writing and Life by Anne Lamott
My rating: 5 of 5 stars
This book is an outstanding addition to any writer's library of books on the craft and the life. Lamott uses this book to relay autobiographical accounts of her own life as an author, both the somewhat desperate bits as well as the thrilling successes (which turn out to not be nearly as lovely as one might surmise). However, she doesn't stop there, she also provides great tips and techniques for aspiring authors, including some useful tools, plus a few hard-to-hear, but probably necessary reality checks. All the while, she provides some exceptionally funny and easy-to-read metaphors that flow directly into the work, and really help build the story up with no confusion.
Lamott sugar-coats nothing. She drags all the dirty laundry of what it actually means to get published, and the heartache of trying to finish a book and having it under-appreciated. Through this, she gives us lots of great tips.
Some of my favorites include: The 1-inch picture frame (a way of looking at your work in smaller doses) and shitty first drafts (just coming to grips with the fact that the first thing that spews forth onto the screen is almost certainly not the thing you are going to keep when you submit to a publisher… or even the thing that will be in your second or third draft… So get over it and just write.
All the while, she reminds us that we write because of the joy we ultimately get from writing… Not the accolades or the glory that we see in headline authors. This book has really helped me level set some expectations as I continue my writing journey, and I believe every would-be author should take a day or two and read this fun account.